Israel is known for many things: Holy Land pilgrimage, magnificent historical sights, rich culture, ecotourism, nature ranging from beaches to mountains, and more. Here are the top five Israel beach resort cities where you can see it all.
Tel Aviv
Full of lovely sea-view resorts, Tel Aviv is a modern Israeli resort city that maintains strong historical roots. There is something for every member of the family, whether it's visiting a museum, hitting the beach, or taking in some history. Architecture buffs can spend hours in this city, taking in all of the historic, Bauhaus, and eclectic international styles. Foodies can indulge their senses with everything from hummus and pizza to fancy chef's restaurants and more.
Tel Aviv often gets called "the gay capital of the Middle East" or the "Mediterranean Capital of Cool" and it's easy to see why. Authentic markets, community events, and a buzzing nightlife keep bringing people back. Go on a shopping spree at the Dizengoff Center or Ramat Aviv Mall or take it easy on the beach. Creativity abounds in Tel Aviv and it's a city that never sleeps. Both the resident and visitor populations are quite diverse, so this is a friendly place where anyone will feel welcome. Some great Israeli coastal resorts here include the Royal Beach Hotel, the Renaissance Tel Aviv Hotel, and the David Intercontinental Tel Aviv.
Caesarea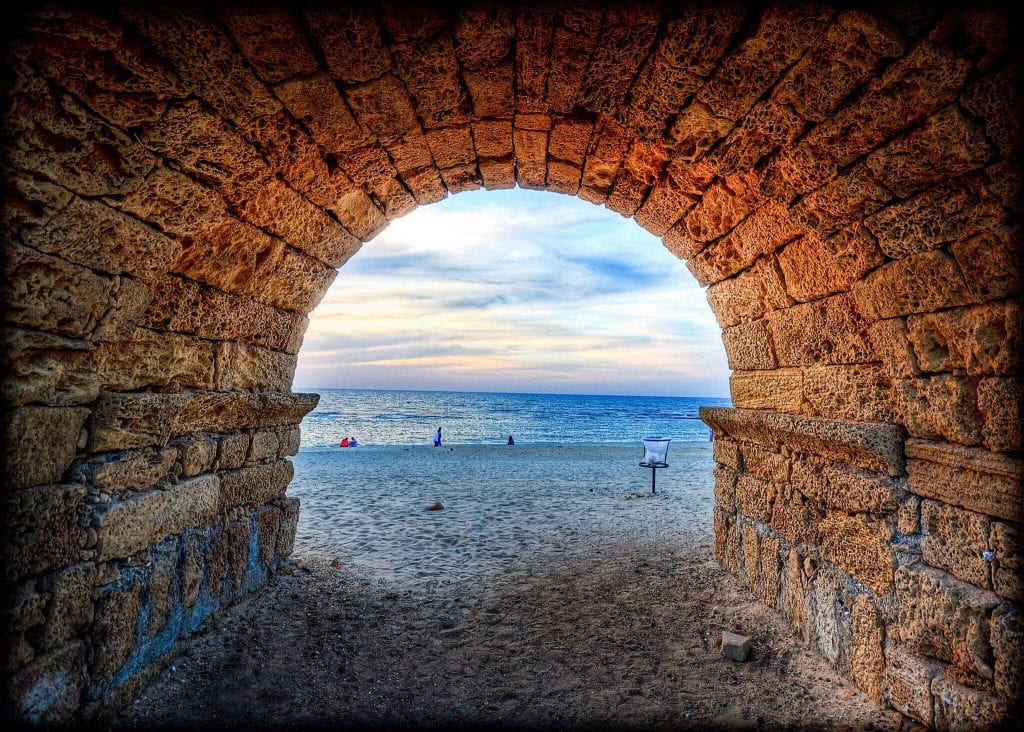 Caesarea is an ancient port city and it is known for its historical ruins. Sitting along the Mediterranean coast, this city was crucial in Jewish history, as it was built by King Herod when he ruled over Judea. Those interested in religious history will have a lot to explore here, such as a Roman amphitheater and aqueduct, as well as an inscription from Pontius Pilate's time.
On the more adventurous side, Caesarea can be considered home to some of the nicest Israel resorts, such as the Czarina Cabin and the adults-only Moments Caesaria. Visitors can turn in for the night at one of these spots after enjoying lovely dining by the harbor. There is something here for everyone, from the beautiful beaches, modern boutique shopping, and even concerts and music events among the ancient history.
Dead Sea
Being one of the most fascinating places on earth, the Dead Sea is  an excellent choice any time of year, since Dead Sea temperature tends to stay warm with low humidity levels. The Dead Sea has long been considered a natural wonder and curiosity, and it is also home to the lowest point on Earth. The history surrounding it makes it a must-see for most travelers to Israel. Masada, an ancient fortress and UNESCO World Heritage Site, is the main attraction here. There is also the Ein Gedi National Park and spa, where visitors can hike, swim, and relax. There are over a dozen Dead Sea resorts to choose from.
Eilat
As Israel's southernmost city, Eilat sits on the coast of the Red Sea and offers a variety of water activities. The Red Sea holds stunning coral reefs and colorful fish, making it a prime destination for snorkeling and diving. Visitors can also swim with dolphins or just take a rest on the clean, pristine beaches. Many people consider Eilat to be the ultimate Israeli seaside resort city and nature buffs will love it, even if they aren't keen on getting in the water. Eilat has an Underwater Observatory and Marine Park where visitors can see fish, mollusks, stingrays, sharks, and more. There are also hiking trails through the mountains where visitors can spot wildlife such as dorcas gazelles, nubian ibexes, and striped hyenas.
Visitors should also check out the Ice Park & Mall. It features luxury shopping, a food court, and a grand ice skating rink on the bottom floor. Some of the best Israel holiday resorts in Eilat include the Dan Eilat Hotel and the Hilton Eilat Queen of Sheba Hotel, which has a great shopping mall adjacent to the accommodation.
Tiberias
Tiberias is a popular holiday spot for Israelis and international tourists, thanks to its hot springs and resort vibe. Visitors can choose from activities such as sailing, kayaking, and swimming or they can simply relax and bask in the sun or a soothing hot spring. The city is located on the Sea of Galilee's western shore so average temperatures reach 28°C in the summer and 14.5°C in the winter.
Also, Tiberias is one of the four holy cities in the Jewish faith, making it an awesome historical site. Visitors can take a boat ride on the Sea of Galilee and venture to the Church of the Beatitudes and the Home & Church of Saint Peter. There is also a lot of natural wonder and beauty here with Capernaum and Mount Arbel National Parks and the Horns of Hattin. When it's time to rest, visitors should check out the Leonardo Club Hotel, the U Boutique Kinneret, and the Rimonim Galei Kinnereth. They're considered some of the best Israel spa resorts in Tiberias.